Stressnol removes nervousness and provides long-lasting effect due to its 5 active ingredients. Stressnol provides sedative action on the central neruvous system.  This in its turn regulates the balance of mediators in nervous system, mental stability, mood and the quality of sleep. Additionally, Stressnol has mood-enhancing properties thanks to the cocoa extract and L-Tryptophan.
STRESSNOL capsule N15
Removes nervousness and ensure a long-lasting effect for 12 hours.
COMPOSITION :
Magnesium oxide 150mg (90mg of magnesiun 24% of DZR)
L- tryptophan – 100mg
Dry extract of Valerian 4:1 – 60 mg
Dry extract of Theobroma cacao 60 %  – 50mg
Hops dry extract 4: 1 (Humulus lupulus) – 30mg
Excipients : gelatine
ACTION MECHANISM:
Improves function of the nervous system
Helps to adapt to emotional stress
Provides good mood
Increases working capacity
INDICATIONS :
STRESSNOL maintains nervous system health. It can be recommended as an adjunct to basic therapy in:
Sleep disorders
Insomnia
Depression
Anxiety
Mood changes
Fatigue
Dystonia
Preclimatic and climacteric syndrome
Weight gain caused by stress
Increased appetite
MODE OF ADMINISTRATION: Adult and children over 18 years : 1 -2 capsules per day for 15-60 days .
CONTRAINDICATIONS :
Hypersensitivity to any of the product ingredients.
Pregnancy and breastfeeding
SPECIAL CAUTIONS:
Supplements are nota substitute for a balanced healthy diet.
Do not exceed the recommended daily dose;
Keep out of reach of children.
Store in dark place protected from direct sunlight at room temperature.
Food Supplement
Producer : "Solepharm", Alkšņu iela 4, Jaunmārupe, novads Mārupes, LV-2166, Latvia. Origin: EU
Importer : Prosanias Farm SRL.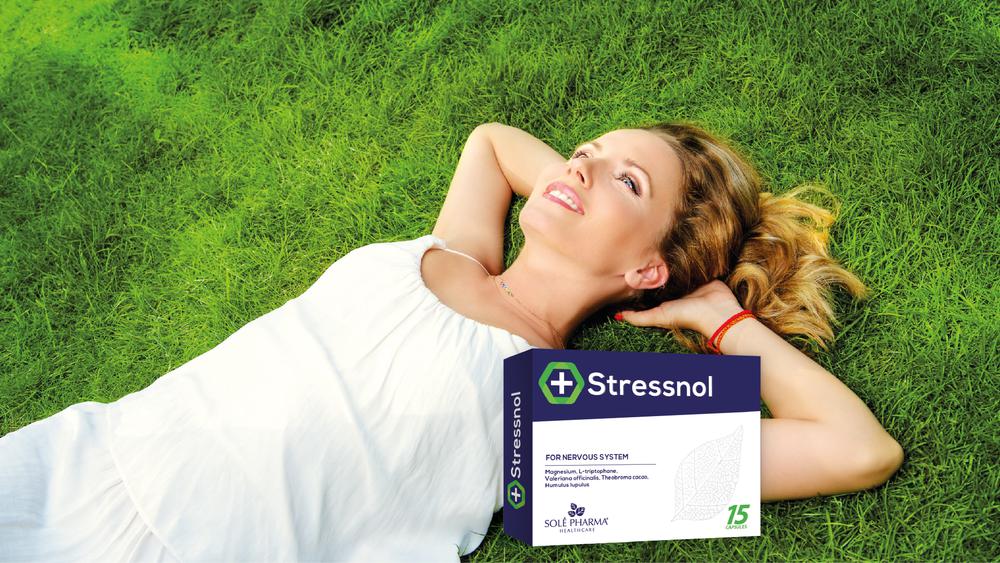 Invalid URL for PDF Viewer
Delivery
All packages are shipped through the courier company NOVAPOSTA. Shipment is from 1 to 3 business days.
Payment 
Payment on delivery – you will have to pay the courier at the moment of delivery or with the Visa/Master card.
RETURN
All the products available on the website cannot be returned after purchase according to Moldova legislation.